Come Meet The Audiologist at Nautilus Hearing
At Nautilus Hearing, we're committed to helping our clients restore their hearing and improve their quality of life. Armed with the latest hearing loss treatments, we'll help you get back to doing what you love. Meet our highly qualified audiologist and hearing expert.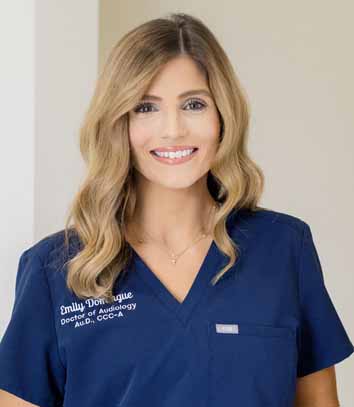 Emily Domingue, Au.D., CCC-A
Doctor of Audiology
Nautilus Hearing is locally owned and operated by Dr. Emily Domingue.
Dr. Domingue received her Bachelor's in Communication Sciences and Disorders from The University of Mississippi and her Doctorate of Audiology from The University of South Alabama.
After receiving her doctorate, she ran a private practice clinic in Foley, Alabama. It has been a lifelong dream to own her own practice where she aspires to treat the needs of each individual patient and spend necessary time with them to learn and assist in their hearing health.
Dr. Domingue specializes in the diagnosis and treatment of hearing loss, tinnitus and cochlear implants. She has made a patient-centered approach her number one goal for Nautilus Hearing.
​When not in the clinic, she can be found at local health fairs and outreach programs in the community where she can further assist and educate. She can also be found at home with her twin girls Annie Kate and Madison, and their dog Riley!
LinkedIn
HealthGrades
HealthyHearing